Open Events 2022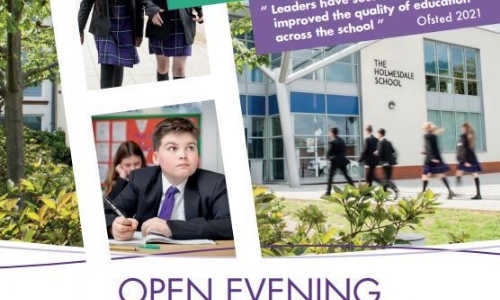 Open Evening - Thursday 6th October 2022 6pm - 9pm
The Holmesdale School warmly invites you to meet our staff, students and view our facilities.
For current year 6 pupils for Admissions in September 2023
This year's open evening will take place on Thursday 6th October. The evening will give families and prospective pupils the opportunity to hear from the Headteacher, meet staff and current pupils, tour the school facilities and visit subject classes.
The Headteacher's speeches will be at 6:30pm and 7:30pm

Pre-Booked School Day Tours
If you would like to see the school in action during the day, you can book a tour.
Our tours will take place between 10th October and 17th October.
As these are usually oversubscribed, we require families to pre-book.
To book a place on one of the tours please contact main reception on:
Email: Office@holmesdale.kent.sch.uk
Phone: 01634 240416